This is just a reminder that there will be no school Monday January 17th .



Due to weather conditions today's home basketball games and our away wrestling tournament for Monday December 27th 2021 have been canceled. Please watch for reschedule dates to come.

Wrestling meet and Basketball games have been canceled for today December 14th

Here is our 2 hour delay schedule for today.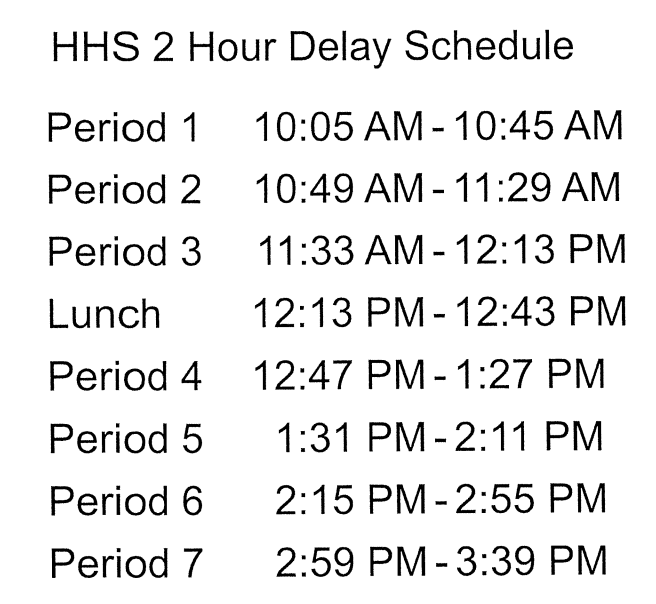 We will have a two hour delay today, Tuesday, December 14th.

I'm delighted to announce an exciting scholarship opportunity for Harrisburg High School students who have demonstrated a track record of leadership in or out of the classroom. We're awarding $1,000 through our annual Future Leaders Scholarship. Here are the key details: Scholarship Name: Future Leaders Scholarship Eligibility: All high school and college students with a track record of leadership in one's school, community, or personal life are eligible to apply. Amount: $1,000 Application Deadline: 05/1/22 Link:
https://scholarshipinstitute.org/scholarship/
Check out this week's announcements at
https://tinyurl.com/3wtmxnaa
for information on the new Harrisburg Flex Academy, Door Dash orders, Safe Oregon, our Second Spanish-Speaking Family meeting, and of couse the Dumb Joke of the Day.

https://youtu.be/tLc_BpXTUUM
Announcements this week discuss Sports starting Monday, Thanskgiving week calendar change, staying on track with school work and of course the dumb joke of the day.
District calendar adjustment Dear Parents and Guardians, I would like to extend a most sincere and heartfelt thanks to all of you for partnering with the school staff by bringing your children to school ready to learn while following the health protocols. Last year we were one of the few districts that had an elementary school open its doors on the first day of school, and stay open throughout the year. Our middle school was also one of a very few schools to welcome students back for full in-person days. Our high school, as well, had opened its doors to part time days for all students. During this time we didn't have a single outbreak. All of us made major sacrifices and pivots to make sure that our students were safe and getting the best education available to them. We all worked extremely hard. This year, however, has been different. At the beginning of August we were forced to adapt to new mask mandates which created much controversy in our community. As cases began to rise we had many students who were forced to quarantine and every staff member stepped up and made sure that our quarantined students still had access to their education through online learning and packets being sent home. We are now beginning to see students experiencing learning loss and struggles behaving in the classroom. Many of our staff are working much harder and longer to compensate for the loss of learning by meeting with students virtually and creating packets. Staff shortages are creating a hardship on teachers and principals as they cover classes. In many ways our staff is working longer and harder and this year is proving to be much more difficult than last year. The school board voted last night to give staff a much needed work day and an extra day off during Thanksgiving week. Many districts in our region, and across the state, are providing staff with a much needed break. At the school board meeting on November 8th, I recommended to the school board that Monday, November 22nd be a non-student contact work day and that November 23rd be a paid day off for all staff. The school board voted unanimously in favor of this recommendation. Please note your children do not come to school the week of November 22nd so your families may enjoy time with family and friends during Thanksgiving. The board and district administrators want to recognize the great work all of our staff are doing and have done the past three months. Hope all of you have a wonderful Thanksgiving holiday and celebrate all we have to be thankful for in this school district and community.

Calendar change: Week of November 22nd- 25th there will be no school for students!

Thanksgiving food drive information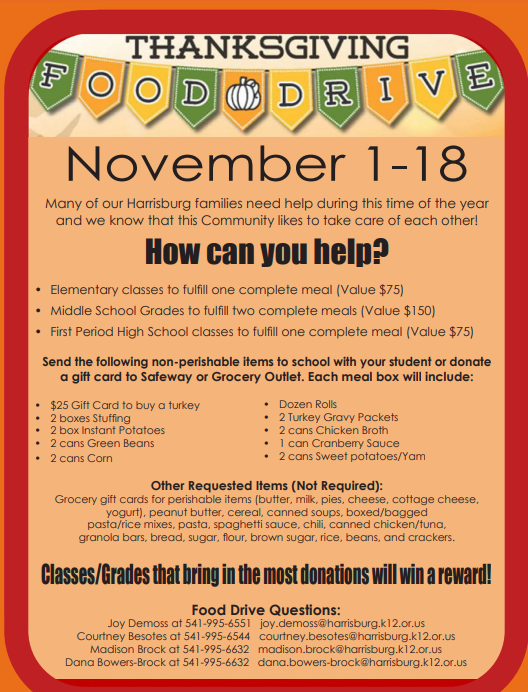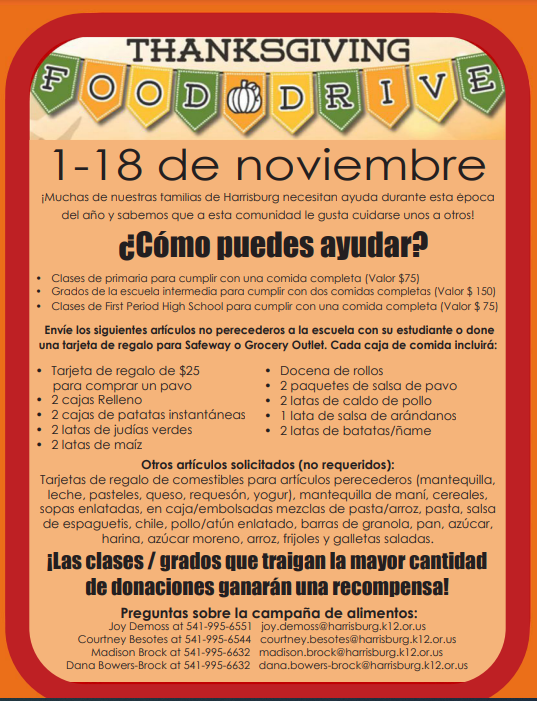 Hello Warrior Family No video this week, just a couple quick announcements. Food Drive Starting Monday, first period classes are going to compete to fill Thanksgiving boxes for families in our community. Each 1st period class will receive a box and a list of items needed. The competition will run from November 1st through the 18th. The class that donates the most food will win a home cooked breakfast courtesy of Mrs. Brock and Mrs. Bowers-Brock. And no expired food. We don't want that quart of milk that's been under your bed for the last three weeks. You know, the one that smells a little funky and has chunks? You can keep that and drink it yourself. Homecoming Homecoming this week has been a BLAST!! We have had a great time and even learned a little about eggs as hair conditioner. Join us as we wrap up our homecoming activities this weekend with the homecoming football game tonight at 7:00, the court crowned at halftime. Saturday, our volleyball team plays in the first round of state playoffs in Willamina at noon, and we would love to have a huge cheering section there. We finish the week with the homecoming dance at 8:00 Saturday evening. It's been a great week, help us finish strong! Dumb Joke of the day Last halloween joke of the year…. Why are skeletons so calm? Nothing gets under their skin.
This week's HHS Announcements can be viewed here:
https://youtu.be/t4Dkea90fBw
This week we discuss: Conferences Standard Response Protocol Attendance Eligibility for Field Trips FFA Brings home an Award and of course - Homecoming!!



Tickets are now at the office to buy for Homecoming. The price for tickets this year is: $12 single $20 pair