News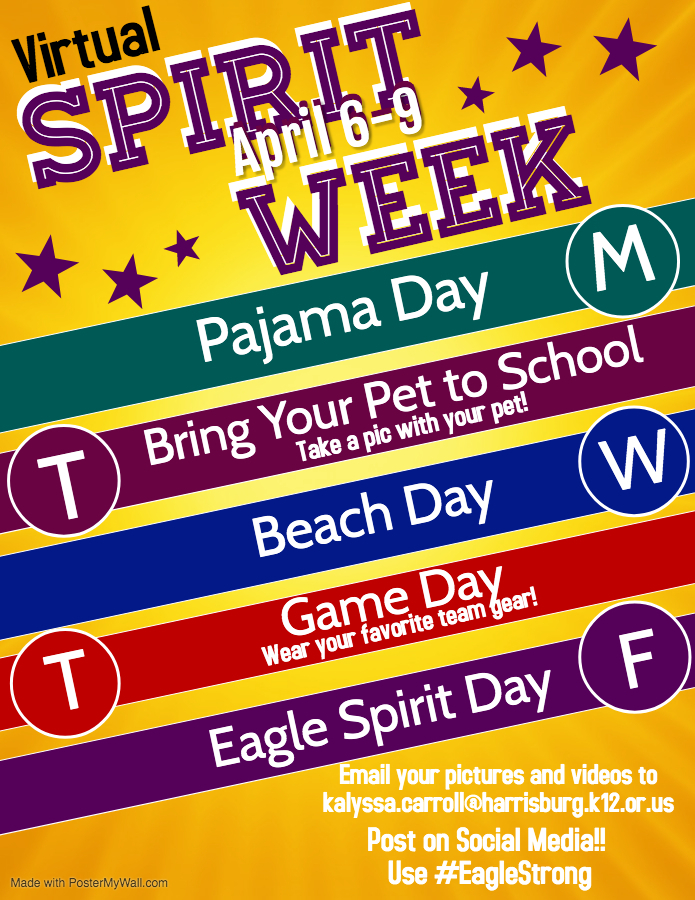 Virtual Spirit week April 6-9
April 2, 2020 - Communication to staff and parents, On Tuesday, March 31st ODE changed course requiring school districts to begin distance learning for all students on...
Frequently Asked QuestionsThe following are frequently asked questions relating to OSAA's policies regarding the COVID-19 outbreak. If you have a question, please contact...
SEE ALL NEWS
LIVE FEED

Kim Kahle
about 11 hours ago
April 2, 2020

Please review the following update regarding the expectations and details of distance learning for Harrisburg Jr/Sr High School students:

Our staff has spent this week (March 30-April 2) working hard to adapt to the world of distant learning. They have been very involved with developing creative ways to educate our students remotely. All of this starts with making sure all of our families have the necessary equipment and materials to access education.

Starting next week (April 6-9) you should be able to access material for your students to work on. During this week please make sure that contact is made with each of your student's teachers. The expectation is that your student needs to make contact with each of their teachers at least once per week. This can occur in a variety of ways which includes email, Zoom, or by phone. Our goal for this week is that everyone (staff, students, and parents) becomes familiar with the process of distance learning. I am asking my teachers not to enter grades this week as we realize there will be some challenges that need to be overcome and I don't want additional stress placed on students that are adjusting to this style of learning.

On April 13th we will officially start providing Distance Learning where teachers will be establishing due dates, requiring assignments and assessments, providing feedback, and entering grades. The expectation is that students will spend approximately 30 minutes per day for each of their classes. Students will also need to continue to make weekly check-ins with their teachers. This will provide the opportunity for all students to earn their credits for the second semester. We appreciate your patience and understanding as we work together to provide the best possible education for our students during these challenging circumstances.
Bryan Starr
1 day ago
The governor's executive order gave five stipulations for school districts to do in order to receive state school funding. One of those is to continue paying employees through the closure. We are looking into having staff perform painting and possibly other maintenance items around the district while following social distancing guidelines. We are planning to have classified staff work with teachers and be available for phone calls, paper packet copying and collating each week.

Paul Lambert
3 days ago
As Harrisburg SD prepares for online distance learning, here are 5 tips for families to consider: https://5il.co/egdn

Paul Lambert
3 days ago
For those who will be picking up an iPad or Chromebook this week, please take a moment to read the Student Device Checkout Agreement document (https://5il.co/e0tu). If at all possible, bring the signed portion with you when picking up your loaner device (one per device).
SEE ALL POSTS