The link for graduation live stream is on the high school page under the Graduation 2021 button. The senior slide show link is also posted there.
Dear Parents and Students, We are searching for a new high school principal. Here is a link to a survey to determine what people want in their high school principal. The district will use this information to screen and interview the appropriate candidates for Harrisburg High School. Thank you for taking the time to thoughtfully complete the survey.
https://www.surveymonkey.com/r/BTC-Principal-Search
Dear Harrisburg Community, Last week we received new information relating to students wearing masks while at school, school athletic events, and extracurricular activities. It is important to know that these new guidelines are optional and do not have to be implemented by school districts. Harrisburg School District leadership has met and decided to adopt the following change to students wearing masks: Harrisburg School District staff, at their discretion, will allow students to remove their masks during supervised outdoor activities such as outdoor PE and recess. Students will still be required to wear masks while on campus and in classrooms and will still be required to maintain social distancing at all times. Thank you for partnering with us as we complete a very challenging school year. We are in the final few weeks of school and will finish EAGLE strong.

Athletic Events for the week of May 25th-28th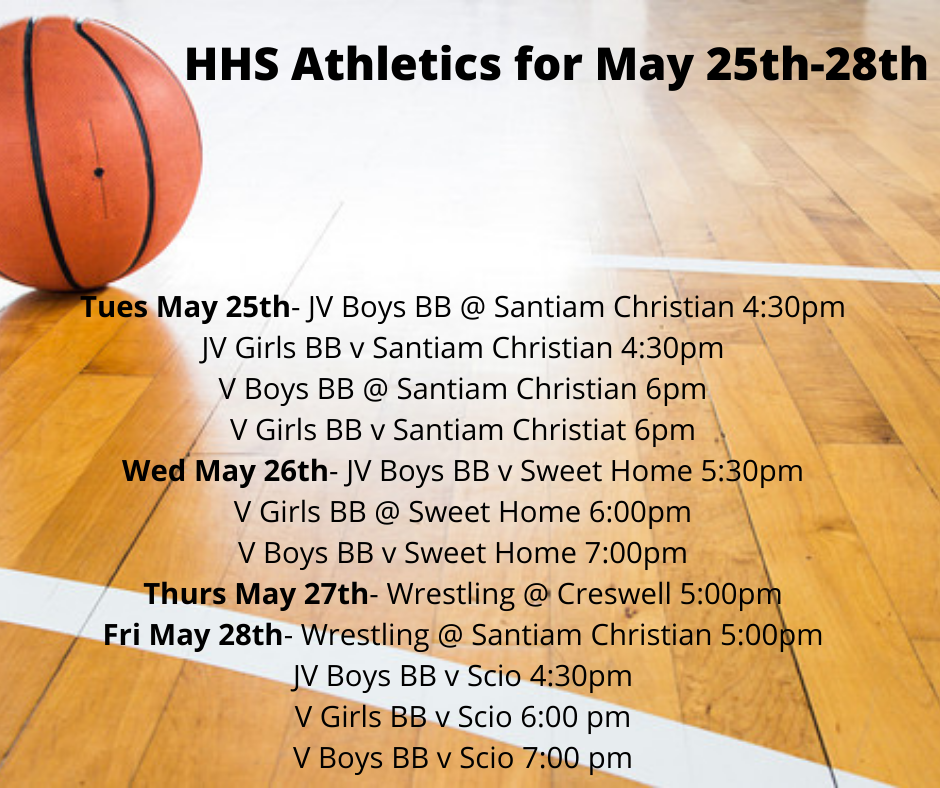 Athletic events for the week of May 17th-22nd
Dear Parents and Guardians, Yesterday, Governor Brown issued a video statement on how the new CDC guidance will be implemented in Oregon. In her statement she shared, "Nothing is changing for schools this school year, and I expect education staff and students to continue to wear masks and physically distance, as outlined in our Ready Schools, Safe Learners guidance." This also applies to all other individuals on school campus, including but not limited to: family members, volunteers, visitors, SROs, and other partners. I hope you understand we must follow the Ready Schools, Safe Learners guidance as established by the Oregon Department of Education (ODE) and Oregon Health Authority, OHA. ODE is currently working with OHA on guidance for next school year. Thank you for partnering with the school staff creating a safe and secure place for our children to learn and grow.

JV Softball game against Crow on Wednesday May 12th has been canceled.

Athletic Events for the week of May 11th-15th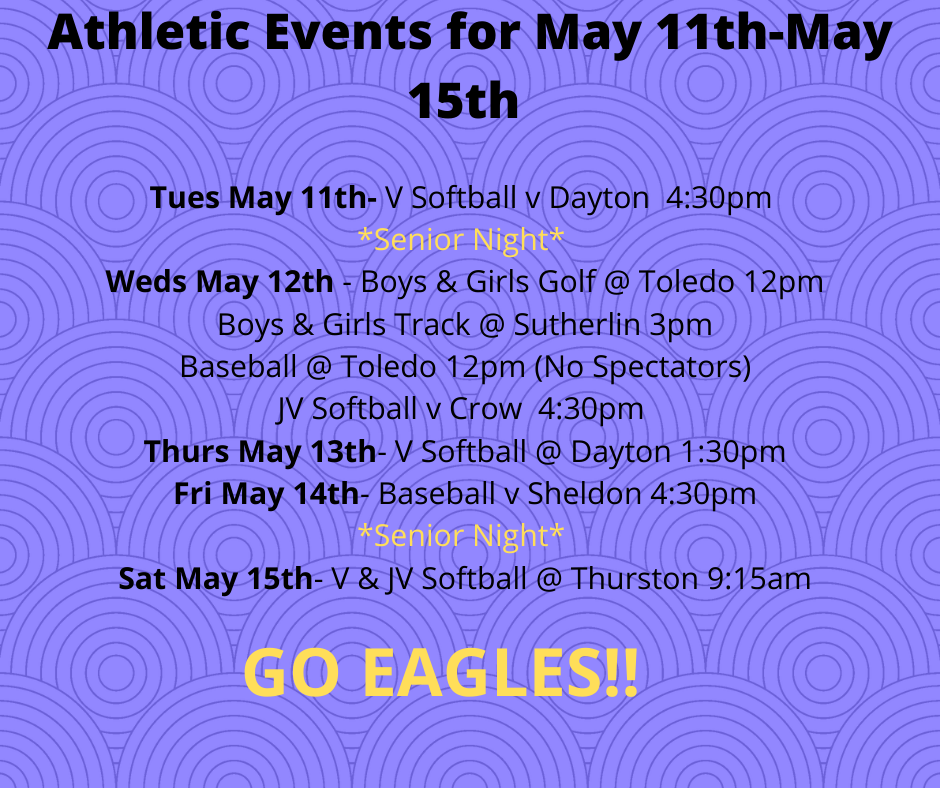 Dear Parents and Guardians, Please take the time to participate in the latest thought exchange. Also rate other peoples thoughts after submitting your own thoughts. The main question is, " As we move away from the restrictions created by the pandemic, what can the school district do to best support students? Thank you ahead of time for participating. Here is the link:
https://my.thoughtexchange.com/633204942

Below is the Zoom link to tonight's Board meeting. There is an executive session, so Open Session will begin around 6:50-7:00.
https://harrisburg-k12-or-us.zoom.us/j/81743952563?pwd=Nm9Fbmt6NStCV25OODRsM3htdHFlQT09
Meeting ID: 817 4395 2563 Passcode: 015879 One tap mobile +13462487799,,81743952563# US (Houston) +16699009128,,81743952563# US (San Jose) Dial by your location +1 346 248 7799 US (Houston) +1 669 900 9128 US (San Jose) +1 253 215 8782 US (Tacoma) +1 312 626 6799 US (Chicago) +1 646 558 8656 US (New York) +1 301 715 8592 US (Washington DC) 888 475 4499 US Toll-free 877 853 5257 US Toll-free Meeting ID: 817 4395 2563

Basketball practice starts today, Monday May 10th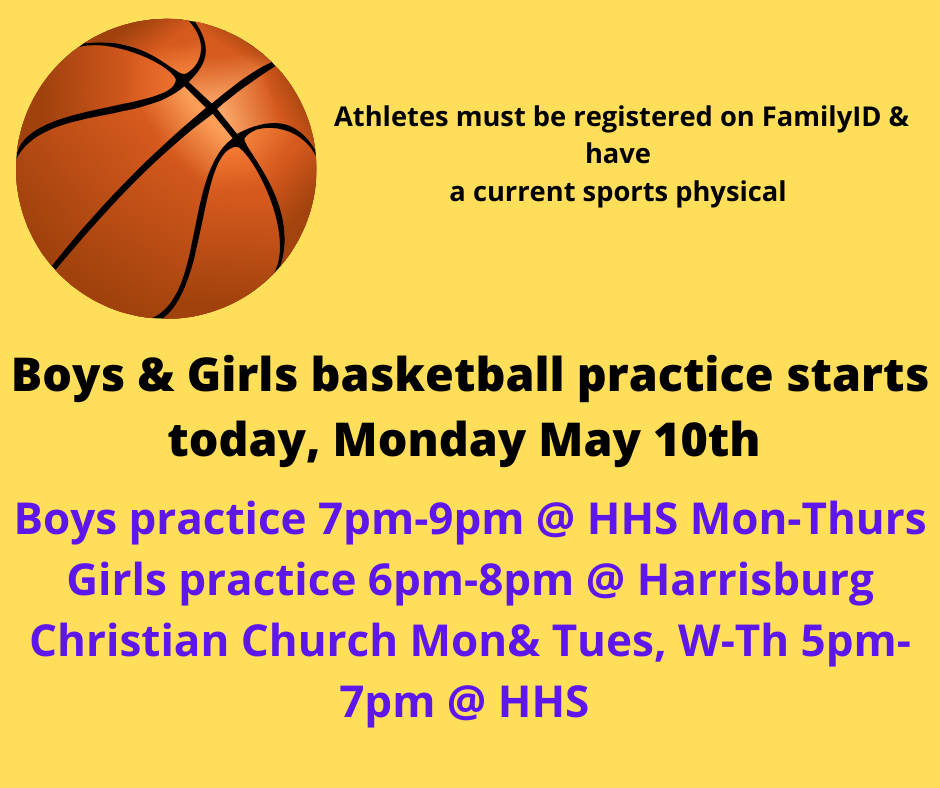 HHS Winter Sports Sign ups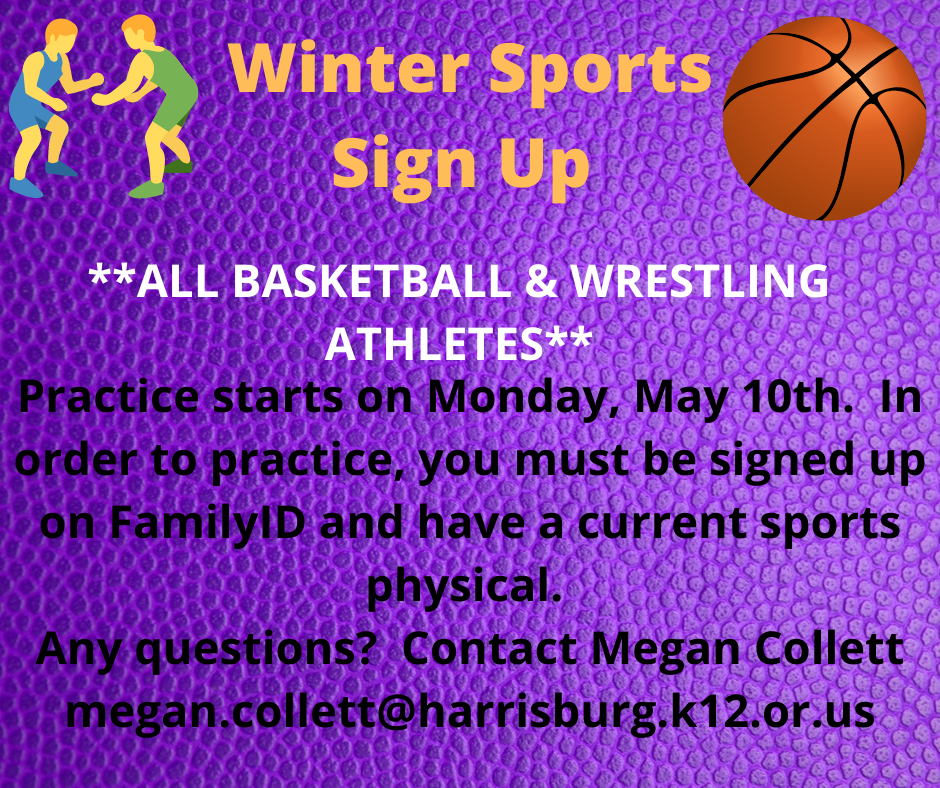 HHS Leadership fundraiser for Mother's day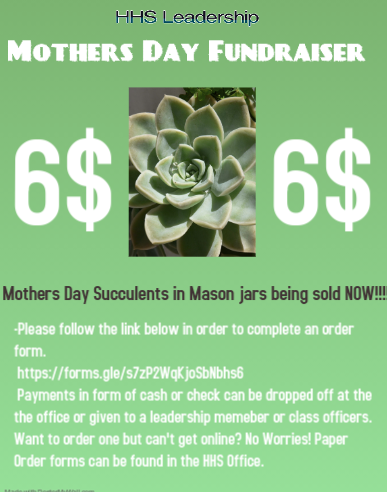 Today's JV Softball game against Crow has been canceled.
Dear Parents and Community, This has been a challenging year for all of us and I want to thank you for your support as we provided the best education possible during these times. We are nearing the end of the school year and must remain vigilant in doing our part to keep everyone safe. Please remember we have specific mandates such as wearing masks and social distancing that must be followed. We are working hard following the guidance we receive from Oregon Department of Education, ODE and Oregon Health Authority, OHA. With only 8 weeks of school left, it is critical we are diligent in following the mandates, especially as the county metrics have climbed again. Masks must be worn at all times with the exception of eating and drinking. Masks must cover the mouth and nose. Please continue reminding your children to keep their masks on while on school property. Our elementary school has received some OSHA complaints placing a focus on our school and the potential of fines or closure. We have worked so hard to remain in compliance, so please remember to follow these guidelines and help each other by responding to reminders from staff or other individuals. I know that some of you have your vaccination and feel safe in public. Being vaccinated or not does not change the mandates that are required for schools. Whether we agree, disagree, or are just plain tired of COVID, we must follow the guidance to help our district from potential fines, potentially being closed early for the year or other more rigid mandates that could impact cohort size and schedules. I am so proud of our school staff and students who have endured a very tough school year. Thank you for understanding and assisting our staff with compliance.


If you have any questions about COVID: COVID team phone number: 541-990-4173. This is a confidential voicemail so if we do not pick up folks can leave their information and we will call them back ASAP.

HHS Baseball @ Santiam Christian 4:30 p.m. HHS Softball v Santiam Christian 4:30 p.m.