Southern Linn Youth Services Team Fast Track Car Wash Fundraiser Harrisburg School District's counselors and social worker are members of the Southern Linn County Youth Services Team, working alongside social services, law enforcement, and other related community service providers. We meet monthly as a team to provide our students and their families with comprehensive case management, outreach services, referrals for mental health counseling and community based services, and more. We are a nonprofit that is fully funded by fundraising and donations. For the past two years, due to covid restrictions, we have been unable to host our typical fundraising events and have been forced to think outside of the box as to how we are going to provide financial support to families in need. Please help us out this weekend and get your car washed while you're at it! Bring the flyer attached to this letter to either Fast Track location this weekend (Friday 5/20 or Saturday 5/21) and purchase a qualifying car wash or pre-paid wash card to donate 50% of each purchase to our Southern Linn YST! NOTICE - FLYER MUST BE PRESENTED AT TIME OF SERVICE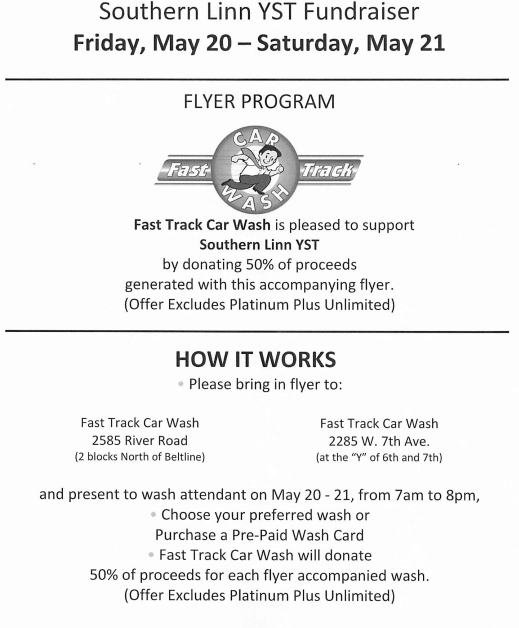 FFA Plant sale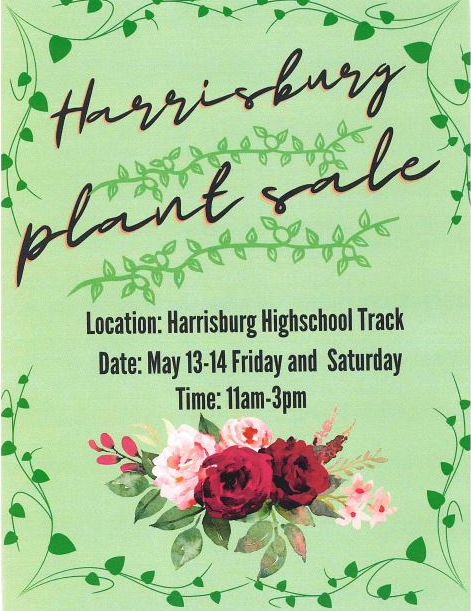 Toda la Semana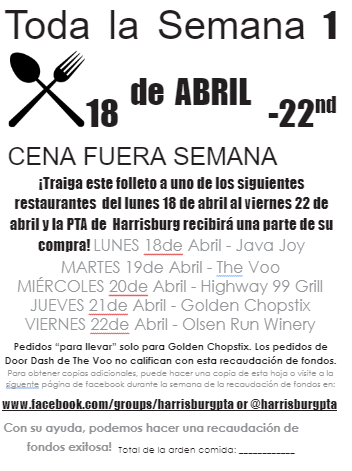 Dine out week



Letter to parents


Parenting today forward: Foundations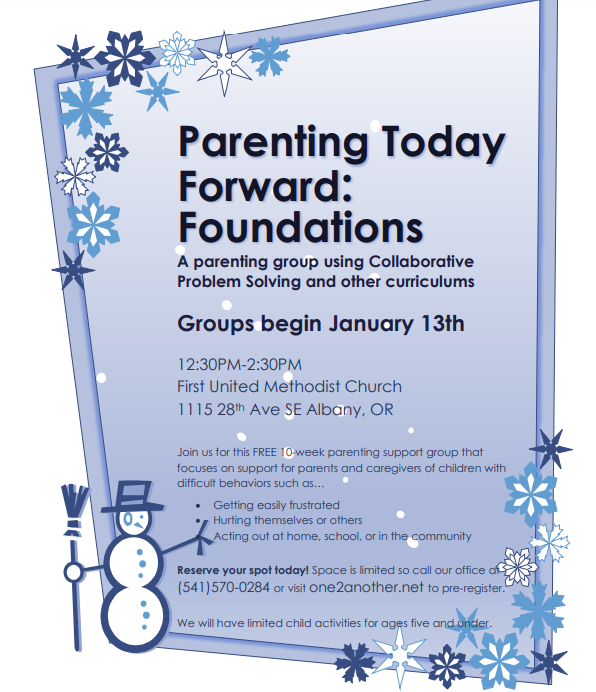 We will have a two hour delay today, Tuesday, December 14th.


Greetings We wanted to make you aware of this resource for your students and families. The 2021 Pollywog Holiday Resource Guide is a list of Food Pantries, Meals, Holiday assistance, and other resources available to families in need living in Linn, Benton and Lincoln counties. Check out the Pollywog Holiday Resource Guide!
https://tinyurl.com/5dpw2k5h
Revise la Guía de Recursos para los Días Festivos de Pollywog!
https://tinyurl.com/5ytr9jyj
District calendar adjustment Dear Parents and Guardians, I would like to extend a most sincere and heartfelt thanks to all of you for partnering with the school staff by bringing your children to school ready to learn while following the health protocols. Last year we were one of the few districts that had an elementary school open its doors on the first day of school, and stay open throughout the year. Our middle school was also one of a very few schools to welcome students back for full in-person days. Our high school, as well, had opened its doors to part time days for all students. During this time we didn't have a single outbreak. All of us made major sacrifices and pivots to make sure that our students were safe and getting the best education available to them. We all worked extremely hard. This year, however, has been different. At the beginning of August we were forced to adapt to new mask mandates which created much controversy in our community. As cases began to rise we had many students who were forced to quarantine and every staff member stepped up and made sure that our quarantined students still had access to their education through online learning and packets being sent home. We are now beginning to see students experiencing learning loss and struggles behaving in the classroom. Many of our staff are working much harder and longer to compensate for the loss of learning by meeting with students virtually and creating packets. Staff shortages are creating a hardship on teachers and principals as they cover classes. In many ways our staff is working longer and harder and this year is proving to be much more difficult than last year. The school board voted last night to give staff a much needed work day and an extra day off during Thanksgiving week. Many districts in our region, and across the state, are providing staff with a much needed break. At the school board meeting on November 8th, I recommended to the school board that Monday, November 22nd be a non-student contact work day and that November 23rd be a paid day off for all staff. The school board voted unanimously in favor of this recommendation. Please note your children do not come to school the week of November 22nd so your families may enjoy time with family and friends during Thanksgiving. The board and district administrators want to recognize the great work all of our staff are doing and have done the past three months. Hope all of you have a wonderful Thanksgiving holiday and celebrate all we have to be thankful for in this school district and community.

Thanksgiving food drive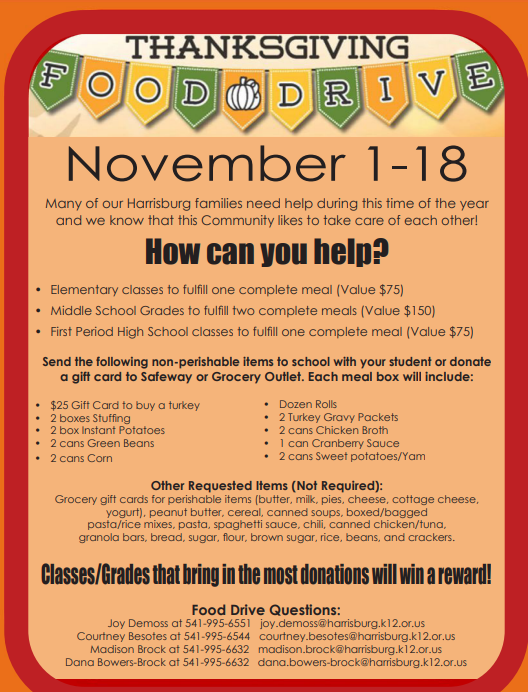 Harrisburg School District Suicide Prevention Policy Guide When on the District site go to the More section, then choose information, then documents to find this complete guild.

HHS Fall Athletic Registration Register for Football, Volleyball, and Cross Country
www.familyid.com
All athletes must be registered on FamilyID and have a current sports physical to participate in practice. PRACTICE STARTS AUG 16TH FOR ALL SPORTS ?'s email:
scott.buzzard@harrisburg.k12.or.us
email sports physical's to Scott Buzzard or turn in to your coach.


The Southern Linn Youth Services Team thanks the Siletz  Tribal Charitable Contribution Fund for their donation of $3106 for the 20-21 school year. It was their generosity that allowed the team to provide financial assistance to students and families in the Southern Linn region. Without the financial support of the STCCF our team could not have helped these families during this difficult school year.