Harrisburg School District Suicide Prevention Policy Guide When on the District site go to the More section, then choose information, then documents to find this complete guild.



Dear Harrisburg Families, Our Summer Enrichment Camp, for students who received an invitation, is very close! For students entering the 2021-2022 school year in grades 3-5 your summer camp will be July 26-30 from 8:00-11:30 each day. Students entering grades 6-8 will have their camp the following week on August 2-6. We will provide breakfast for those who need it from 8:00-8:15. Our first session will run from 8:15-9:30 where students will then get a fifteen minute recess before going to their second session of the day. That session will be 9:50-11:05. From there we will provide a lunch until 11:25. If your student does not need a lunch please feel free to pick them up at 11:05. Pick-up and Drop off location: Students who are not riding the bus can be dropped off and picked up outside the middle school near the front entrance. There will be signs posted and staff visible so you will know where to leave your student. If your child needs breakfast we will escort them to where breakfast is being served. Childcare: If your camper is in need of childcare once the two sessions have ended please email Mr. Jarman at:
pat.jarman@harrisburg.k12.or.us
so we can get an idea of how many students. Please know that the childcare hours end at 3:30 each day. Students who are in the childcare program will be engaging in fun activities and will receive a snack, as well. Again, please email Mr. Jarman if you will be requiring this service after camp.

HHS Fall Athletic Registration Register for Football, Volleyball, and Cross Country
www.familyid.com
All athletes must be registered on FamilyID and have a current sports physical to participate in practice. PRACTICE STARTS AUG 16TH FOR ALL SPORTS ?'s email:
scott.buzzard@harrisburg.k12.or.us
email sports physical's to Scott Buzzard or turn in to your coach.


The Southern Linn Youth Services Team thanks the Siletz  Tribal Charitable Contribution Fund for their donation of $3106 for the 20-21 school year. It was their generosity that allowed the team to provide financial assistance to students and families in the Southern Linn region. Without the financial support of the STCCF our team could not have helped these families during this difficult school year. 



The link for graduation live stream is on the high school page under the Graduation 2021 button. The senior slide show link is also posted there.
Dear Parents and Students, We are searching for a new high school principal. Here is a link to a survey to determine what people want in their high school principal. The district will use this information to screen and interview the appropriate candidates for Harrisburg High School. Thank you for taking the time to thoughtfully complete the survey.
https://www.surveymonkey.com/r/BTC-Principal-Search
Dear Harrisburg Community, Last week we received new information relating to students wearing masks while at school, school athletic events, and extracurricular activities. It is important to know that these new guidelines are optional and do not have to be implemented by school districts. Harrisburg School District leadership has met and decided to adopt the following change to students wearing masks: Harrisburg School District staff, at their discretion, will allow students to remove their masks during supervised outdoor activities such as outdoor PE and recess. Students will still be required to wear masks while on campus and in classrooms and will still be required to maintain social distancing at all times. Thank you for partnering with us as we complete a very challenging school year. We are in the final few weeks of school and will finish EAGLE strong.

Athletic Events for the week of May 25th-28th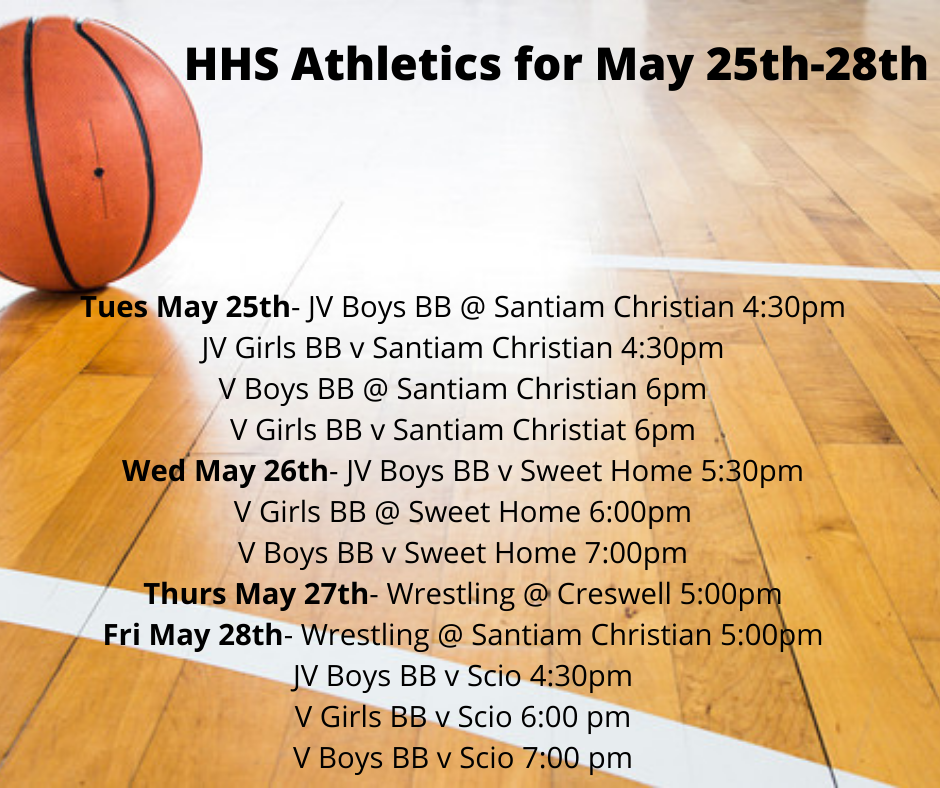 Athletic events for the week of May 17th-22nd
Dear Parents and Guardians, Yesterday, Governor Brown issued a video statement on how the new CDC guidance will be implemented in Oregon. In her statement she shared, "Nothing is changing for schools this school year, and I expect education staff and students to continue to wear masks and physically distance, as outlined in our Ready Schools, Safe Learners guidance." This also applies to all other individuals on school campus, including but not limited to: family members, volunteers, visitors, SROs, and other partners. I hope you understand we must follow the Ready Schools, Safe Learners guidance as established by the Oregon Department of Education (ODE) and Oregon Health Authority, OHA. ODE is currently working with OHA on guidance for next school year. Thank you for partnering with the school staff creating a safe and secure place for our children to learn and grow.

JV Softball game against Crow on Wednesday May 12th has been canceled.

Athletic Events for the week of May 11th-15th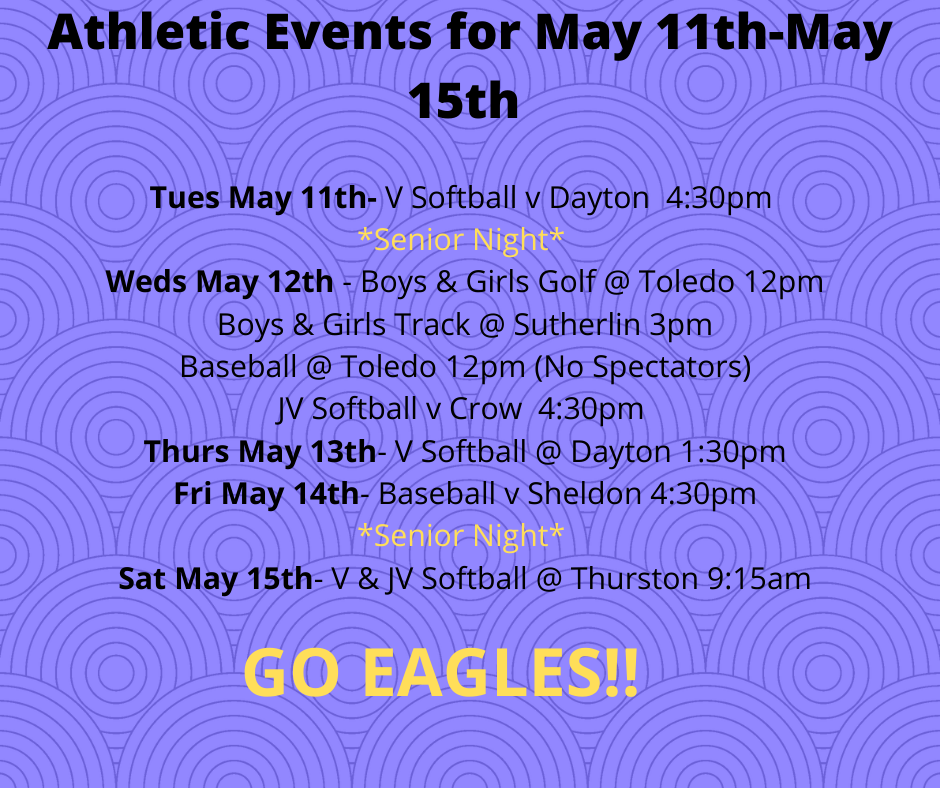 Dear Parents and Guardians, Please take the time to participate in the latest thought exchange. Also rate other peoples thoughts after submitting your own thoughts. The main question is, " As we move away from the restrictions created by the pandemic, what can the school district do to best support students? Thank you ahead of time for participating. Here is the link:
https://my.thoughtexchange.com/633204942