Harrisburg Families, Here is the link to the weekly newsletter HES Weekly
https://5il.co/1s7wi
Safe Touch Parent Meeting has been moved to April 19th. Please see information in the newsletter.
Harrisburg Elementary School wants to say THANK YOU! We are so proud of our readers! With your support, we were able to have successful fundraiser and our students were able to enjoy reading. Harrisburg Elementary School can't wait to Read-A-Thon again next year! Thanks again, Harrisburg Elementary School




Harrisburg Elementary School is all about reading right now. Would you please tell your friends and family about our Read-a-thon sending them a quick email?
https://www.read-a-thon.com/readers/tool/fGwnQn/2
Thanks so much, Harrisburg Elementary School

Good evening HES families. Just a quick reminder we will have our Read Across America event tomorrow morning at 7:30am. We hope you can come and enjoy coffee, hot chocolate, donuts and reading time with your student. See you then.

Harrisburg School District is on a two-hour delay for Tuesday, February 28. Bus routes will be on a two- hour delay as well. All staff should report on campus by 9:30 AM.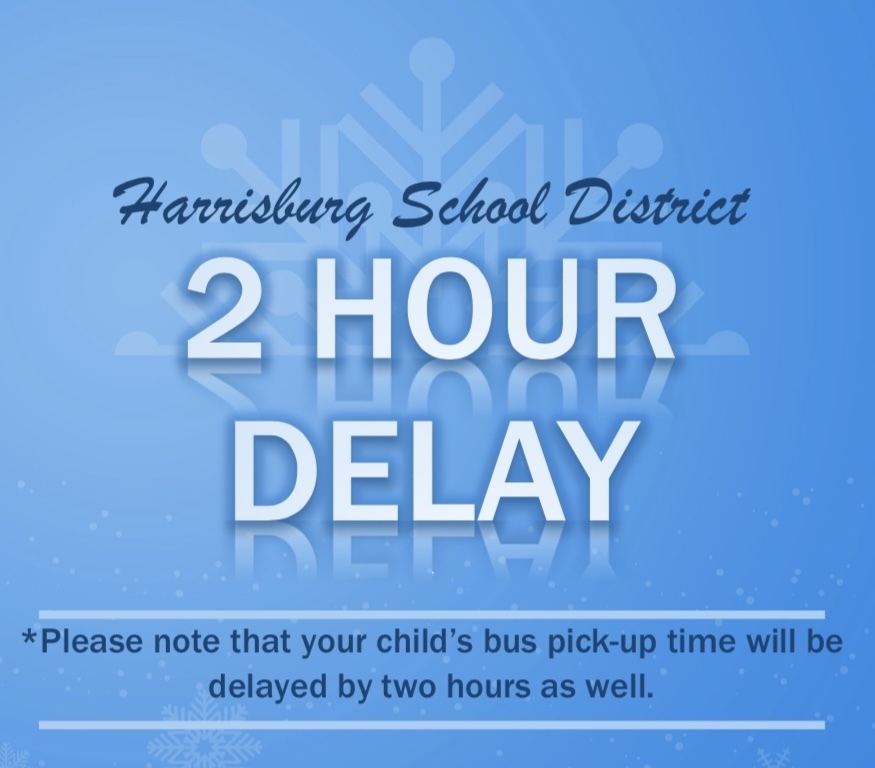 HES Read-A-Thon begins tomorrow, Monday, February 27th. Students will have two weeks to collect pledges and read as much as they can. This is an exciting fundraising event for our school library. The process signing up is quick and easy. Information was sent home last week on how to begin participating. Read Across America day is Thursday, March 2nd. We are looking forward to families being able to come into the school, read with their student and enjoy coffee, hot chocolate and donuts before school. Doors will open at 7:30am. This event will be held in our MPR. This event is for our Harrisburg Elementary students, Kindergarten through 4th grade. Younger siblings are invited too.

2 Hour Delay
Willamette Valley Pie pick up is November 15th. School picture retakes are November 17th. We are still collecting food for the Thanksgiving food drive until Thursday. Please send you non-perishable food items in with your student. The giving tree is located in the front office at Harrisburg Elementary School. Stop by, take an ornament and let the front office know which ornament number you selected for more information.
Just a reminder, school will be in session from 8:10am-3:35pm on Monday and Tuesday. There is no late start this week due to the shortened week for conferences. The Harrisburg Christian Church will be hosting their Kids Harvest Carnival on October 31st from 5:30-7:30pm. There will be game booths, photo booth, bingo and candy. This event is for Harrisburg families and their kids through the 5th grade. Students may wear harvest or Halloween costumes on Monday, October 31st. We ask all costumes be school appropriate, this means no face paint, masks, accessories or gore. If a student's costume has fake blood on it or in any way is not school appropriate we will contact families to bring a change of clothing to the school. If you bring a pet with you to drop off or pick up your students please follow these safety expectations. All animals must be on a leash. The leash should be at a length that keeps the animal by your side. Please remain on the sidewalk and off of the front grass. Thank you for your attention to this matter so all students and families feel comfortable. The booster club will have apparel available for purchase in the lobby on conference days. Come and pick up some new Eagle gear.
Just a reminder, the school board adopted a new district calendar for the 22-23 school year. November 21st and 22nd will now be non-student days. We hope you enjoy this extra time with family and friends. The Harrisburg Christian Church will be hosting their Kids Harvest Carnival on October 31st from 5:30-7:30pm. There will be game booths, photo booth, bingo and candy. This event is for Harrisburg families and their kids through the 5th grade. Students may wear harvest or Halloween costumes on Monday, October 31st. We ask all costumes be school appropriate, including shoes and no masks or accessories. This week we will practice the earthquake, fire, Hold, Secure and Lockdown drills. We know when we practice we are more prepared in case of an emergency. More information will be coming home in the daily folders. It's with great pleasure I get to announce our very own Mr. Buhler, our beloved PE teacher, was selected as Oregon Small Schools teacher of the year. This is a great honor for our school district and Mr. Buhler. His love for students, infectious personality and humor along with his huge heart and dedication to teaching make him the perfect winner of this award. We are so proud of him and all he represents as and Eagle. Please congratulate him the next time you see him.
New school year Our campuses are full of students and staff excited to kick off the 2022-23 school year. It is wonderful to see everyone's smile as students move about their perspective campuses. Over the summer some areas were painted while deep cleaning took place in every building. The old furnaces in the elementary school classrooms were replaced over the summer using federal funds. The new units provide heat and air condition which is greatly appreciated as the temperatures are in the upper 90's this week. The school district provides one-hour weekly for professional learning community (PLC) time. The Harrisburg School District will have late start every Monday. Everything will begin one hour later. There are two weeks during the school year when there is a holiday on Monday, Labor Day and Memorial Day. The late start will move to Tuesday. This is true for next week when Monday, September 5 is Labor Day holiday. We will have late start on Tuesday, September 6, 2022. If you have daycare issues and need to get to work, you may drop your child off at the elementary or middle school at the regular time. We will provide a safe place for all k-6 grade students who cannot stay home one hour. Building principals will provide staff who will oversee the K-6 grade students who arrive during the PLC time. We welcome parent involvement and I would encourage you to support the Harrisburg PTA. There are ways to support your schools through site councils and booster club. Contact the building principal if interested in supporting your son/daughter's school.
Hello everyone, I want to provide an update for the 2022-2023 school year. Currently, the district allows one hour a week, on Wednesdays, for staff to engage in professional Learning Communities (PLC's). The goal of these PLC's is for staff to work together for school and learning improvement. Part of this work entailed sending staff and building principals to White River School District for an up close look at a school district whose PLC process is efficient. One of the takeaways from that trip was the time and day for PLC's to take place. The team came back recommending we change our PLC time from an early release on Wednesdays to a late start on Mondays.This means that, on Mondays only, students will arrive at school an hour later than usual. The district understands that many of our families will have daycare challenges that will result in a late start. If you have a K-6 student you will be able to drop your student off at their respective school at the normal time on Mondays. The district will be happy to provide a safe environment for all K-6 students who arrive before school on Mondays. Building principals will provide communication on the new late start time. This hour of time is very beneficial for our teachers to discuss their instruction while examining data collected each week from agreed upon student work. The Harrisburg School Board of Directors gave us the time to improve learning and our professional practice by doing the work of a PLC, layered under the four critical questions of learning; What do we want students to learn? How will we know if they have learned? What will we do if they don't learn? What will we do if they already know it? Each team has identified essential standards, learning targets, instructional strategies and student engagement and unit pacing. Please contact your building principal for specific details concerning late start Mondays.