Harrisburg Families, We are well into the school year and student supplies have been running low. Please check with your student to make sure they have the school supplies they need. Please see the attached supply list.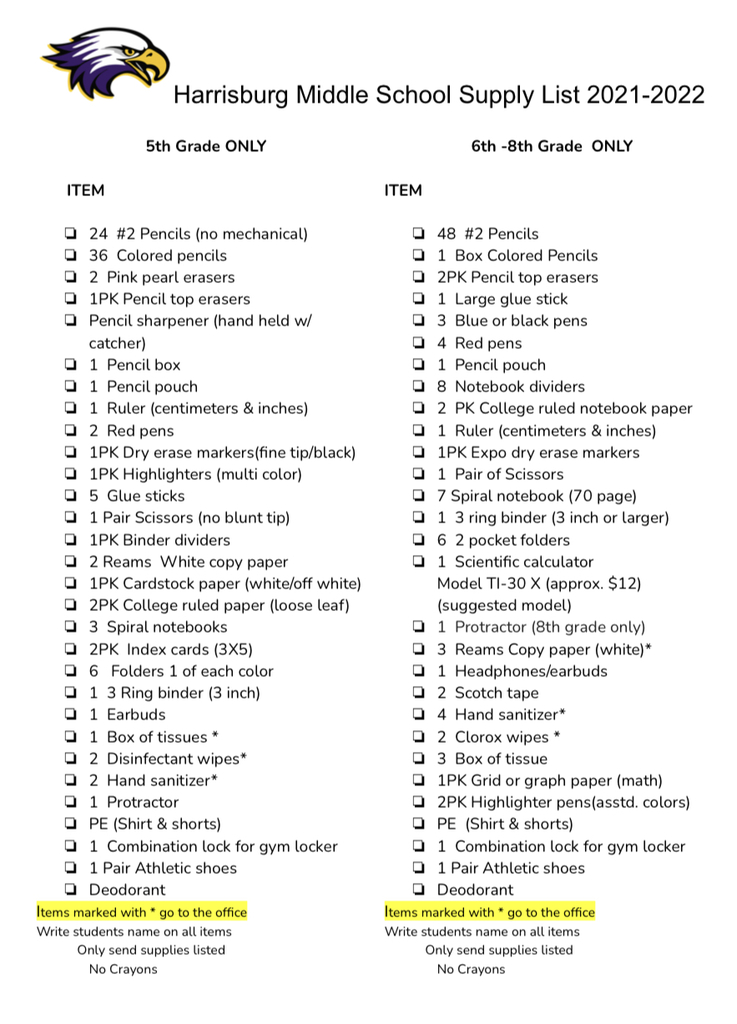 Harrisburg Middle School Picture Retake Day! 8AM-10AM in the Middle School Gym Today!

Engels Evergreen Order Pickup this Saturday at the Harrisburg Christian Church from 10am-2pm. If you cannot pickup your order during that time please call pta member Angela Holt at 541-520-8078 to make a different arrangement.

Hello 5th and 6th grade families! Tomorrow night (Thursday, December 2nd) there will be an activity night that is just for the 5th and 6th grade students from 6pm to 8pm. We are going to be turning our gym into a cosmic bowling night! We will have bowling alleys set up with music playing in the background with lots of fun lighting and exciting bowling! There will be a $5 charge to get into the activity for students! We will also be selling concession for students! There will be snacks and candies along with pizza for sale! All items will be between 25 cents up to 1 dollar. For example, a single piece of candy might be 25 cents while a slice of pizza will be a dollar! This is a fundraiser for our students! All money spent during the activity night will be put into our student body account to be spent later this year on fund trips and end of the school year festivities! Please send your student with some cash! This activity is only for Harrisburg Middle School 5th and 6th grade students only. Please no siblings if they are not in 5th or 6th grade. There will also be no students allowed from other schools. There will be a dance for 7th and 8th grade students next Thursday, December 9th. Please reach out to the front office if you have any questions or concerns! Thank you!

District calendar adjustment Dear Parents and Guardians, I would like to extend a most sincere and heartfelt thanks to all of you for partnering with the school staff by bringing your children to school ready to learn while following the health protocols. Last year we were one of the few districts that had an elementary school open its doors on the first day of school, and stay open throughout the year. Our middle school was also one of a very few schools to welcome students back for full in-person days. Our high school, as well, had opened its doors to part time days for all students. During this time we didn't have a single outbreak. All of us made major sacrifices and pivots to make sure that our students were safe and getting the best education available to them. We all worked extremely hard. This year, however, has been different. At the beginning of August we were forced to adapt to new mask mandates which created much controversy in our community. As cases began to rise we had many students who were forced to quarantine and every staff member stepped up and made sure that our quarantined students still had access to their education through online learning and packets being sent home. We are now beginning to see students experiencing learning loss and struggles behaving in the classroom. Many of our staff are working much harder and longer to compensate for the loss of learning by meeting with students virtually and creating packets. Staff shortages are creating a hardship on teachers and principals as they cover classes. In many ways our staff is working longer and harder and this year is proving to be much more difficult than last year. The school board voted last night to give staff a much needed work day and an extra day off during Thanksgiving week. Many districts in our region, and across the state, are providing staff with a much needed break. At the school board meeting on November 8th, I recommended to the school board that Monday, November 22nd be a non-student contact work day and that November 23rd be a paid day off for all staff. The school board voted unanimously in favor of this recommendation. Please note your children do not come to school the week of November 22nd so your families may enjoy time with family and friends during Thanksgiving. The board and district administrators want to recognize the great work all of our staff are doing and have done the past three months. Hope all of you have a wonderful Thanksgiving holiday and celebrate all we have to be thankful for in this school district and community.

Students should not be on campus after school hours unless otherwise arranged with the school. We currently have Eagle Athletics practicing in our gym during the evenings. The gym is only open to Eagle Athletics at this time. If your student is not attending practice with Eagle Athletics they should not be on campus without supervision. Thank you for helping us keep our campus safe!

Lifetouch pictures have arrived! Pictures will be sent home with students today.

Good afternoon, We were just given confirmation that Willamette Valley Pie Company will be sending a special truck to deliver our pie order this coming Tuesday October 26th! Pies will be available for pick-up from 3:30 pm to 7 pm at the Harrisburg Christian Church. Please plan on picking up your student's frozen Pie orders starting at 3:30pm. We recommend having an ice chest and planning on delivering your orders after pick-up unless you have room to keep the items frozen. Thank you for being flexible. Willamette Valley Pie Company apologizes for any inconvenience they may have caused. If you have any questions please DM or email
harrisburgoregonpta@gmail.com
Thank you, Harrisburg PTA Board

Urgent Notice! Due to an unforseen event Willamette Valley Pie Company notified us this morning that our pies will not be available for delivery on Monday October 25th. We are working with them to get a new delivery date and will notify everyone as soon as we have that date set. We apologize for any inconvenience this has caused. Please know, we are just as shocked as you all. If you have any questions please email us at
harrisburgoregonpta@gmail.com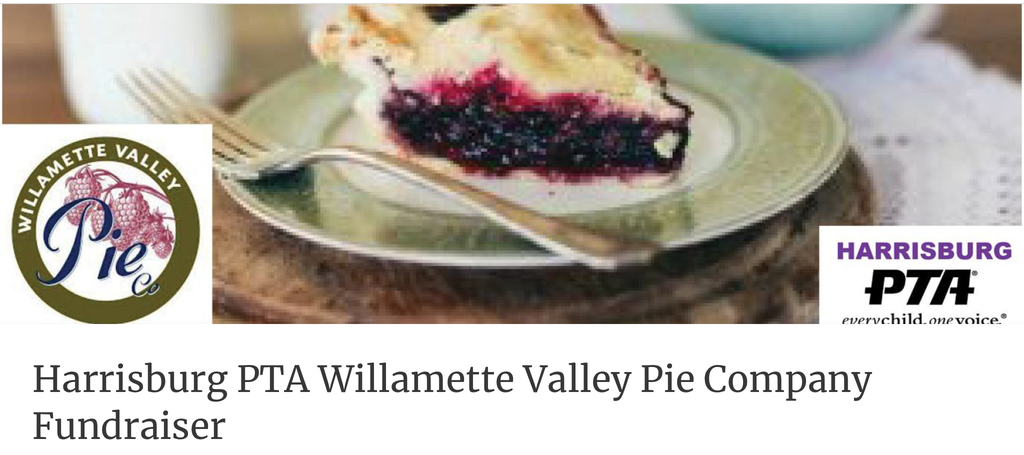 Si su hijo está interesado en la lucha libre o en expandir su habilidades de lucha, visite el Harrisburg Mat Club. El club es de quinto a octavo grado con un costo de $65 dólares. La práctica comienza el lunes 8 de noviembre en el cuarto de lucha en la prepa. Visite el sitio web de Harrisburg Mat Club para obtener formas y más información en
https://harrisburgmatclub.org
Las formas completas se pueden entregar en la oficina. Atención: Megan Talmadge

If your child is interested in wrestling or expanding their wrestling skills check out the Harrisburg Mat Club. The club is for 5th through 8th grade with a cost of $65. Practice begins Monday, Nov 8th at the High School Wrestling room. Go to the Harrisburg Mat Club website for forms and more information at
https://harrisburgmatclub.org
Completed forms can be returned to the office Attn: Megan Talmadge

Robotics Club Starting the week of October 25th, HMS will be offering an after school Robotics Club for students in grades 5-8. Applications have been sent home with students and must be completed and returned by October 18, 2021 in order to be considered for the program!

Tuesday is Picture Day! October 5th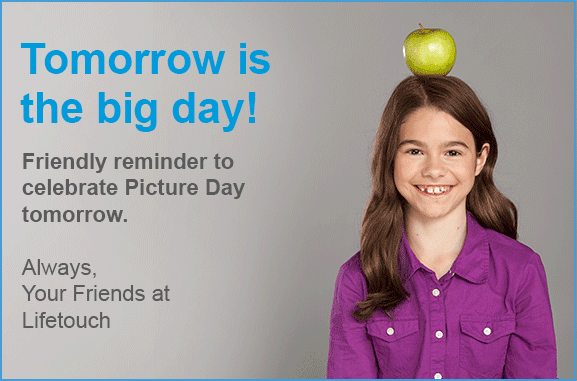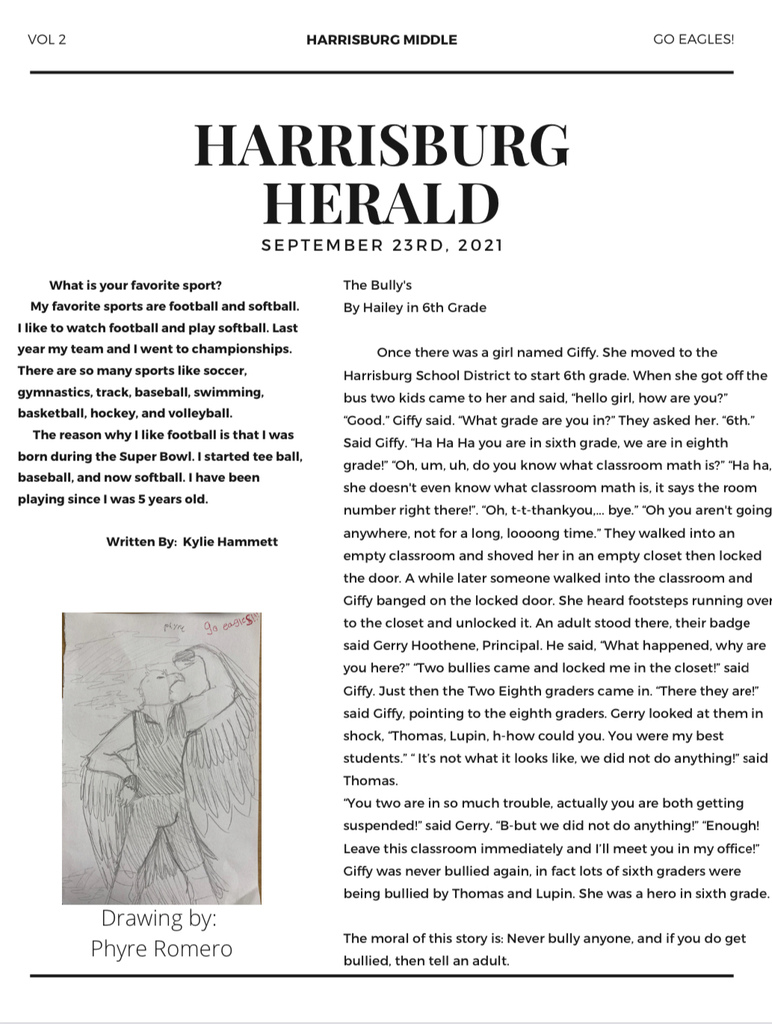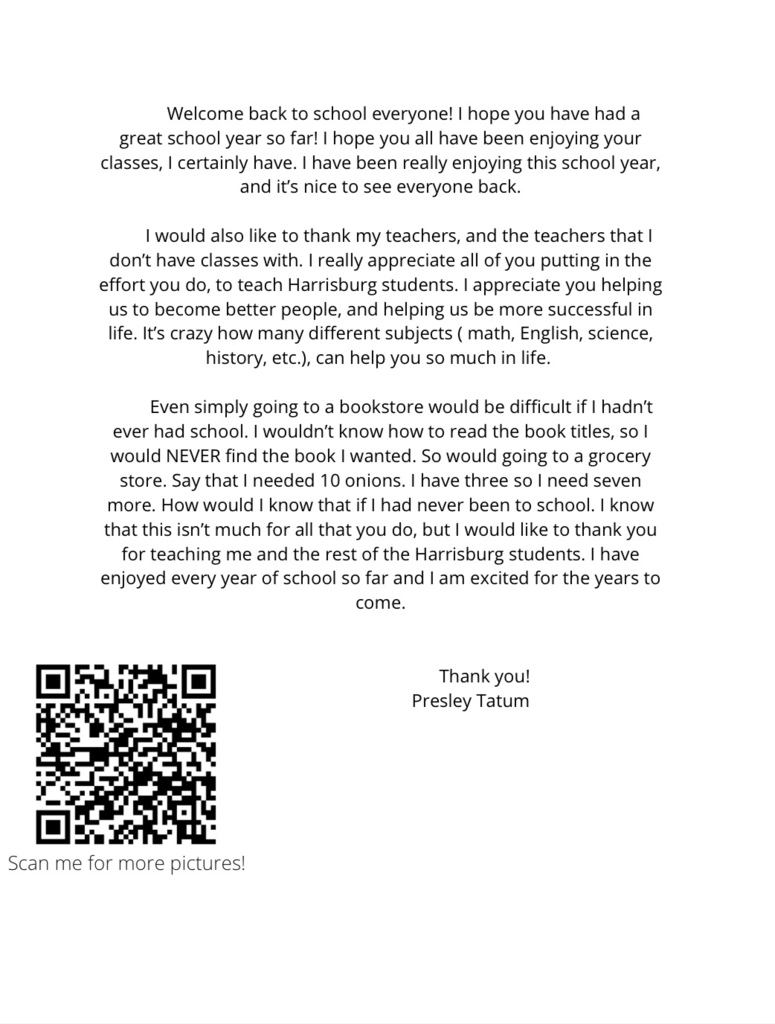 The newspaper team has successfully created their first issue of the Harrisburg Herald!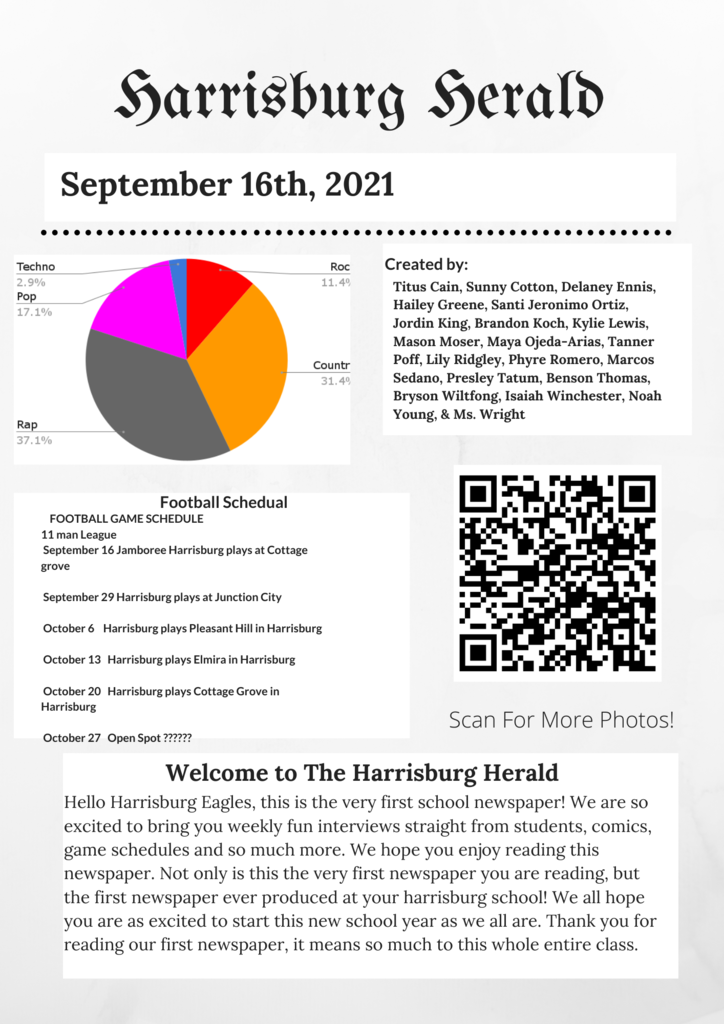 Estimadas familias de Harrisburg Middle School, Es esa época del año nuevamente y nos acercamos rápidamente a un nuevo y emocionante año escolar. Le escribo para informarle de un par de fechas importantes que se celebrarán en las próximas semanas. 24 de agosto: Este será el primer día de inscripción para el año escolar 2021-2022. Nuestro horario de inscripción será de 12:00 a 18:00 horas. También organizaremos una jornada de puertas abiertas de 6:00 p.m. a 7:30 p.m. Esta será una oportunidad para que usted y su (s) estudiante (s) conozcan a sus maestros y vean sus aulas. Durante nuestra noche de padres, también recibirá información importante sobre los protocolos de salud y seguridad e información escolar pertinente. 25 de agosto: Este es el segundo día de nuestro registro. Nuestro horario de inscripción en este día será de 9 a.m. A 5 p. m. 30 de agosto: ¡ Este será nuestro primer día de clases para el año escolar 2021-2022! Si tiene alguna pregunta o inquietud, no dude en llamar a la oficina principal de la escuela intermedia. ¡Gracias por su continuo apoyo a esta gran escuela y distrito! ¡Es genial ser un águila!

Dear Harrisburg Middle School Families, It is that time of the year again and we are quickly approaching a brand new and exciting school year. I am writing to inform you of a couple of important dates coming up in the next few weeks. August 24th: This will be the first day of registration for the 2021-2022 school year. Our registration times will be from 12pm to 6pm. We will also be hosting an open house from 6pm to 7:30 pm. This will be an opportunity for you and your student(s) to meet their teachers and see their classrooms. During our parent night you will also receive important information regarding health and safety protocols and pertinent school information. August 25th: This is day two of our registration. Our hours on this day for registration will be 9am to 5pm. August 30th: This will be our first day of school for the 2021-2022 school year! If you have any questions or concerns please feel free to call the front office of the middle school. Thank you for your continued support of this great school and district! It's great to be an Eagle!